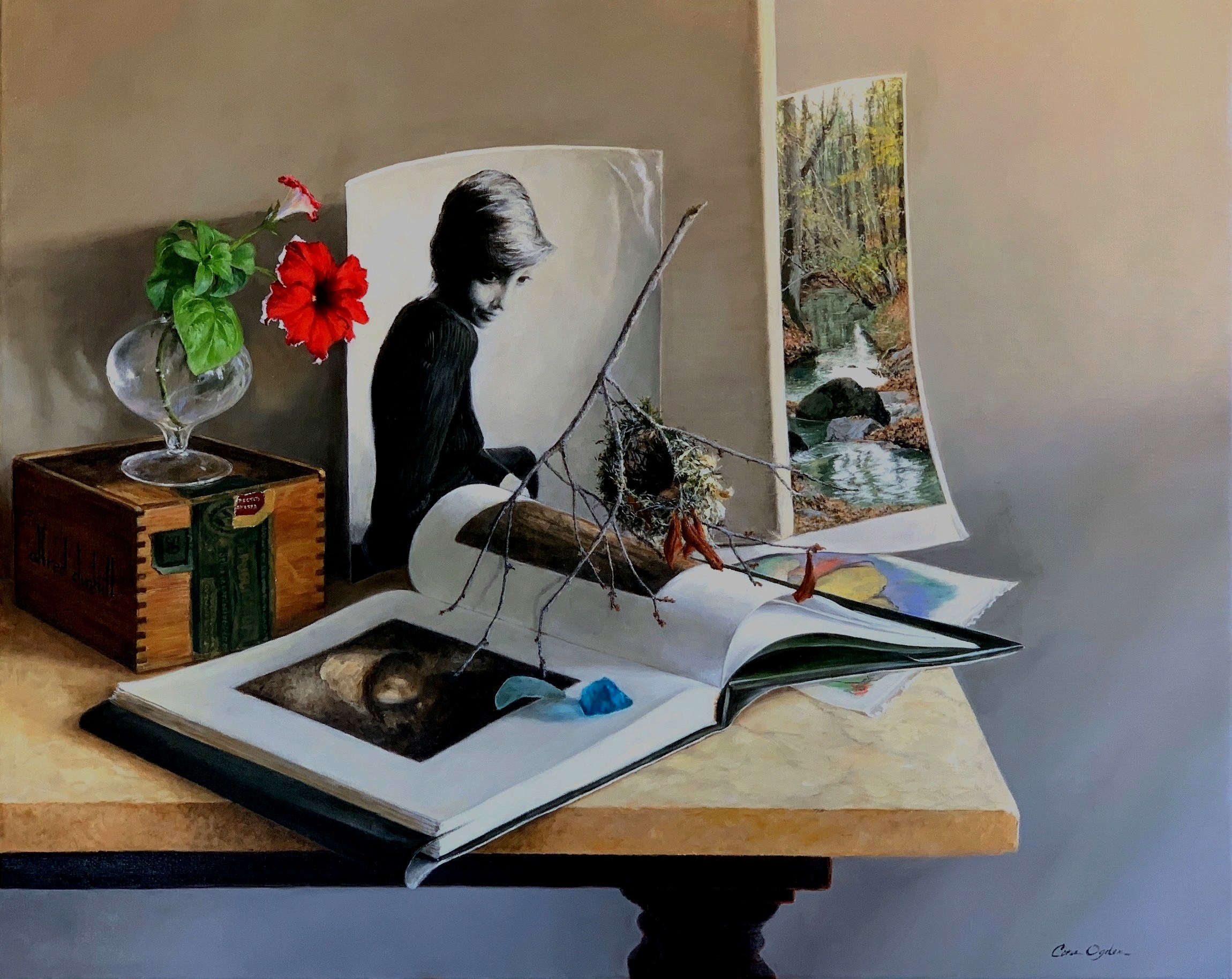 The Nest
30 " x 24" oil/linen available
Pears in Cellophane
17" x 27" available oil/linen
When I was arranging "Pears in Cellophane", I immediately thought of John Singer Sargent's painting "Cashmere" with the Moroccan women promenading along in their robes. Painters love pears because they metaphorically remind us of beautiful voluptuous women. My ladies are clothed in cellophane which alternately obscures and exposes their fullness and glowing colors. The pattern of light moves the viewer along the picture plane, picking up reflected colors while the pears themselves glow in the afternoon sun. I create the shimmering quality of light through many layers of transparent glazes. I use a push - pull technique with the oil pigments: laying a wash of misty grays and then picking out colors that are either reflected or seen through the cellophane. This process continues until the shapes of the crinkled cellophane and rounded pears are fully realized. The background also has been developed through subtle glazes of indigo, reddish brown and vermillion. The result is an ambiguous rich space that both sets off and reflects the warm afternoon light and the jewel like pears. This is a simple composition of three elements: table pears and cellophane. The result however is a complex rhythm of color, light and shadow that reveals different nuances and entertains the eye each time it is viewed.
Sunflowers in a Cobalt Vase
27" x 31" oil/linen available
The concept behind this painting was to create a study in cobalt and yellow. This beautiful vase immediately sets the focal point while the warm golds of sunflowers lean forward out of the picture plane. Each color choice and line in the painting is devised to create depth and dimension. Soft inexplicit tones of workhorse pigment naples yellow mixed with violet create an undefined space for the background, while the slight tilted table with its brilliant white and yellow cloth are right at your elbow. Adding to the conversation, I included one of my favorite paintings, a portrait by Bernard Gutman. Finally, the bird's nest grasses move at the slightest breeze.
Three Roses
22" x 20" oil/linen, available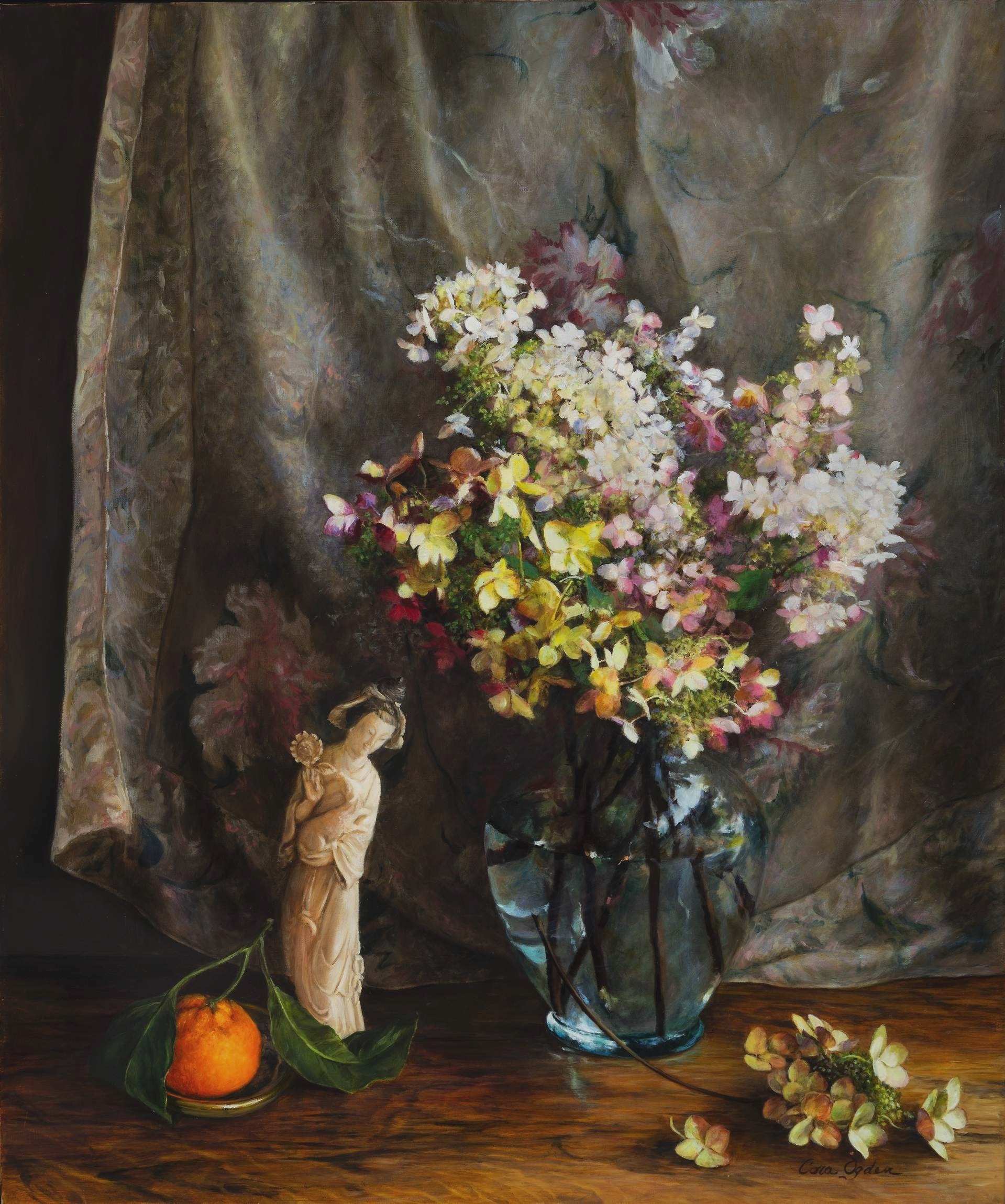 Serenity
24" x 20" oil/linen, available
Tango
24" x 28" oil/linen, available
Morning sun streams into a quiet room and illuminates the rich wood of an old violin, then falls upon well-used sheet music. The idea for Tango was born when a friend shared very old sheet music — Tango in D — she found in a small side street shop in Paris. The beautiful violin had belonged to her favorite uncle. For such an intimate piece I employed classical techniques of painting in many layers of transparent color and chiaroscuro. This is a captured moment of light and romance. Rich woods, shimmery velvet and glowing rose petals. Step into the room and experience the moment.
Morning Tea With Roses
24" x 32" oil/linen, available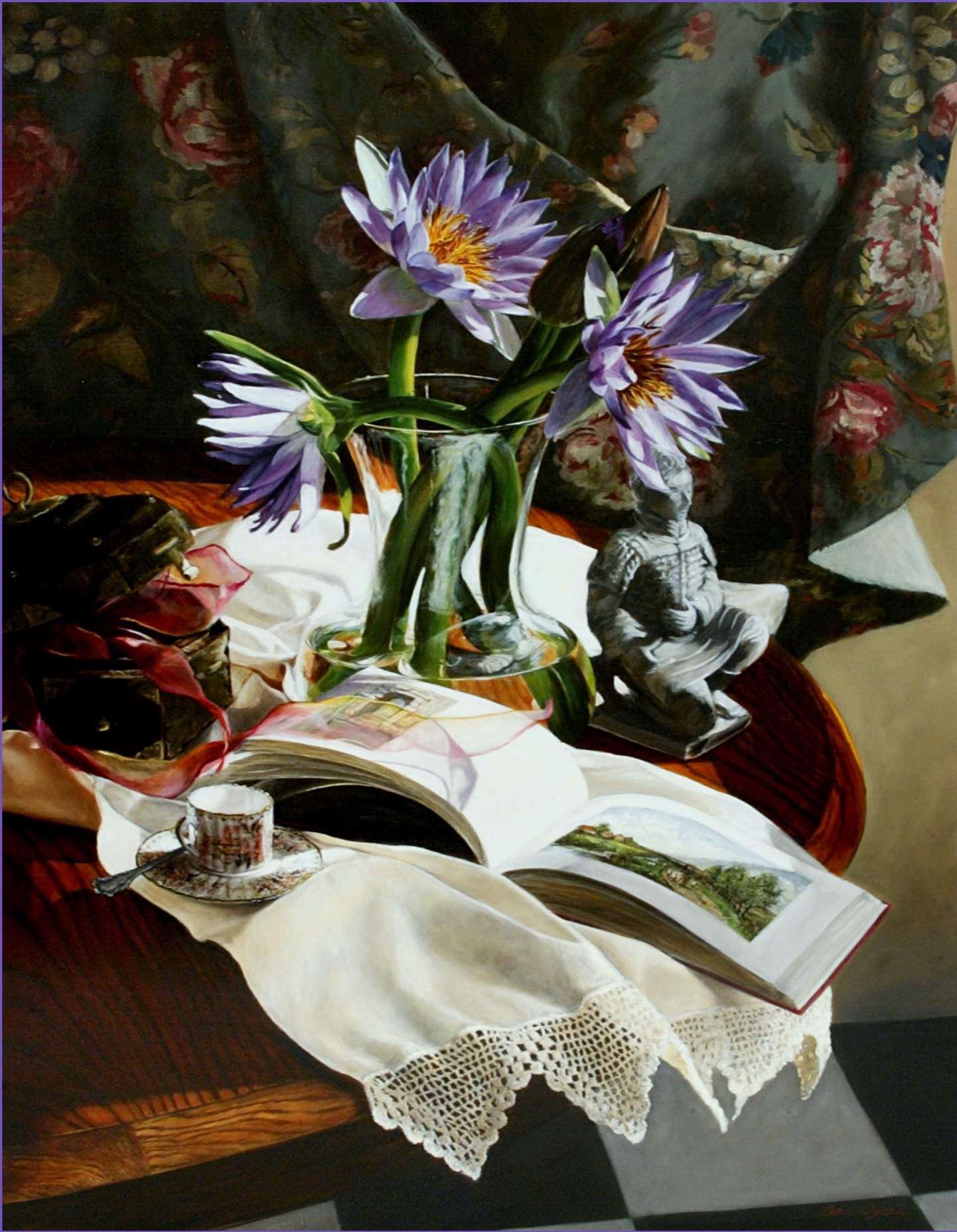 The Warrior and the Waterlilies
Lilies and Delphinium
23" x 28" oil/linen, available
I Bring You Persimmon Lanterns...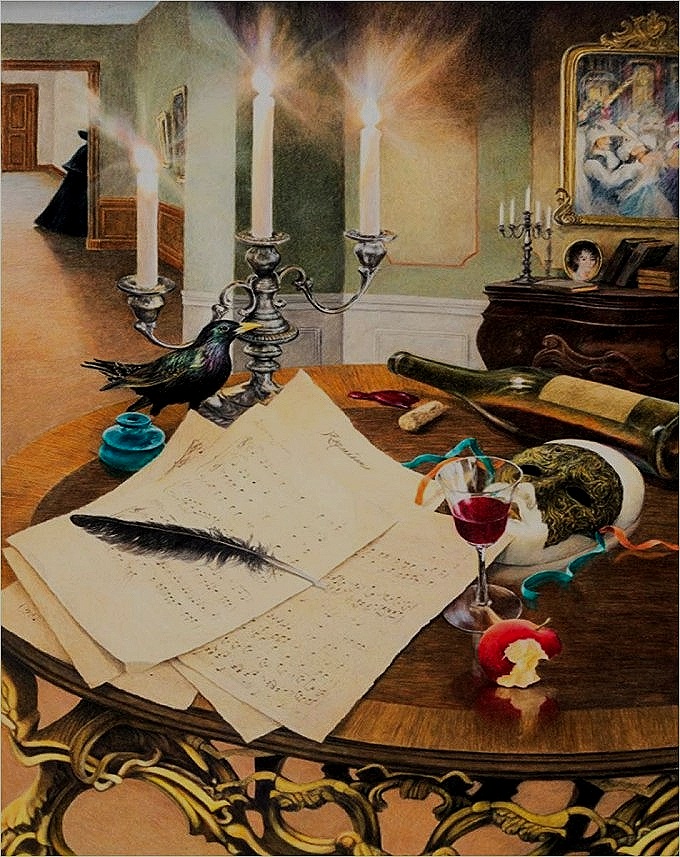 Amadeus
36" x 23.5" colored pencil/paper, available
Amadeus was created as a show poster for a Raleigh theatre company. I present a portrait of the very human man who was passionate about his work, while haunted by his demons.
Morning Tramp
22" x 40" colored pencil/paper, available